Yes, we know, you may be thinking 'another Palm Springs Guide?', it seems like there are SO many guides out there for Palm Springs. But this guide is not for your average traveler who is solely visiting to hit up the usual spots (Aerial Tramway, Modern Museum and The Ace Hotel).
This guide is for the visitor who wants to experience Palm Springs like a local. We promise you won't find many of these restaurants and shops on the majority of the guides that are out there. We want to share with you the spots we actually go to on a regular basis. There is so much to share with you so we've split the guide into 2 sections: Palm Springs Guide I: Eating + Drinking and Palm Springs Guide II: Shopping + Things To Do.
A quick backstory as to how Kenya ended up as a Palm Springs local.
Kenya: I've been visiting Palms Springs for as long as I can remember. It's such an easy weekend trip from LA (where I was living) it made for a perfect getaway to reset and feel rested. About 14 years ago I was looking to buy my first house. I'd been living in an apartment, and the modeling agency I own was finally out of debt, but money does not go very far in LA! On one of my weekend getaways to Palm Springs it rained; I didn't know what to do! I couldn't lounge around the pool so I decided to go look at homes for sale to see what I could get for the amount of money I wanted to spend in LA. The difference was unbelievable! I could afford a multi bedroom house with a pool! So after looking and looking over the course of a few months I finally purchased a home in the desert (it ended up being the first house I had seen).
We now come here every week on Friday morning and leave Monday morning back to LA (Kenya still has an agency to run!). Our house is available on Airbnb to rent so if you're looking for a place in Palm Springs check it out!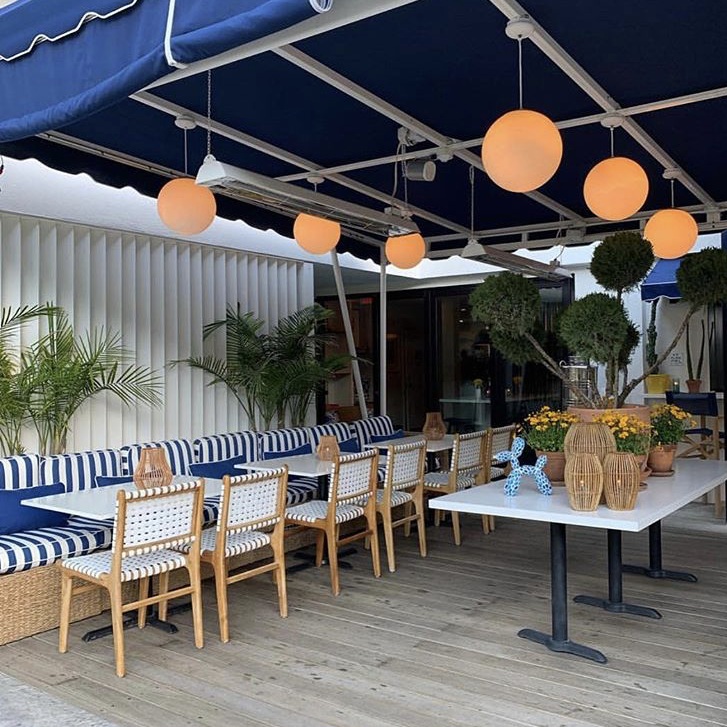 Go here for Sunday Brunch or 'Fried Chicken Fridays', which is served family style and SO good. Reservations required. (18+ only)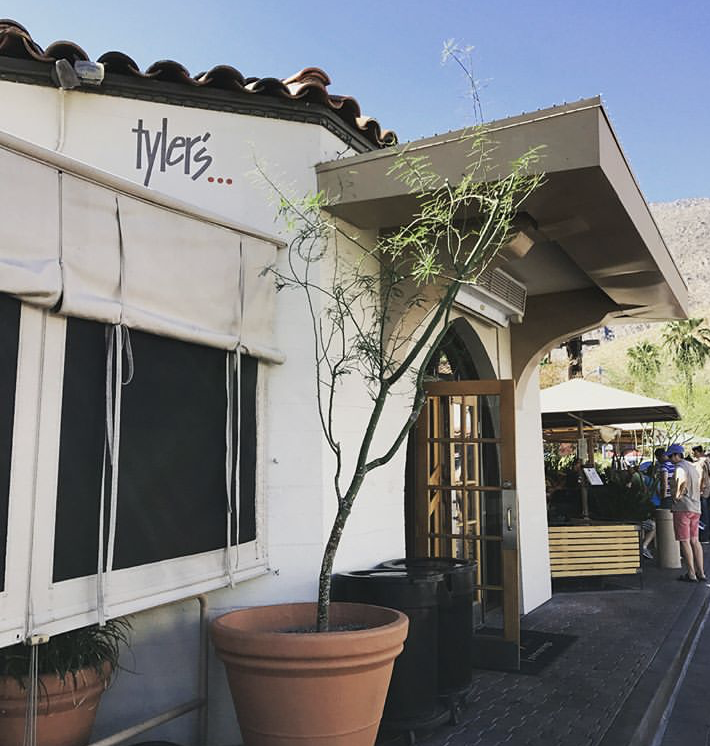 The best burgers (veggie option too) in Palm Springs, but don't sleep on the Chicken Salad!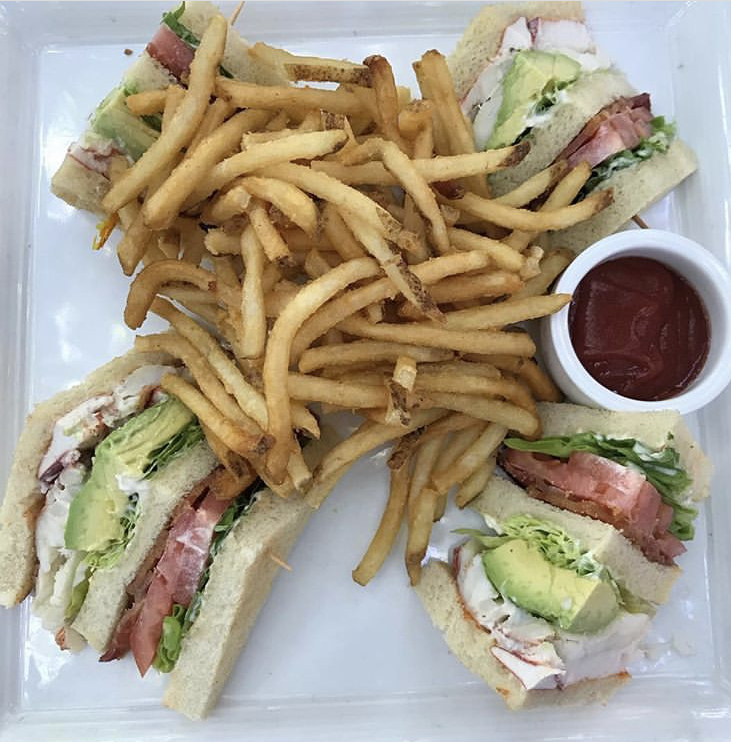 All you need to know is the patio has AC! This is a must visit in the summer. The shrimp cocktail is my must order.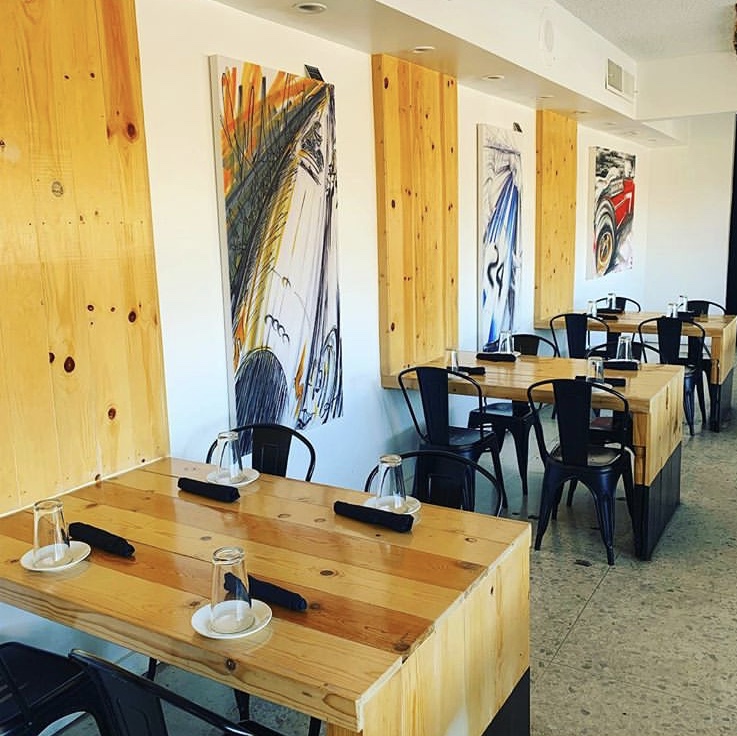 Evzin // 411 E. Palm Canyon Drive
They serve good sized portions of Mediterranean food. We like to order a mezze plate to go and bring it to the pool. Oh, and the rugs on the ceiling are Soukie!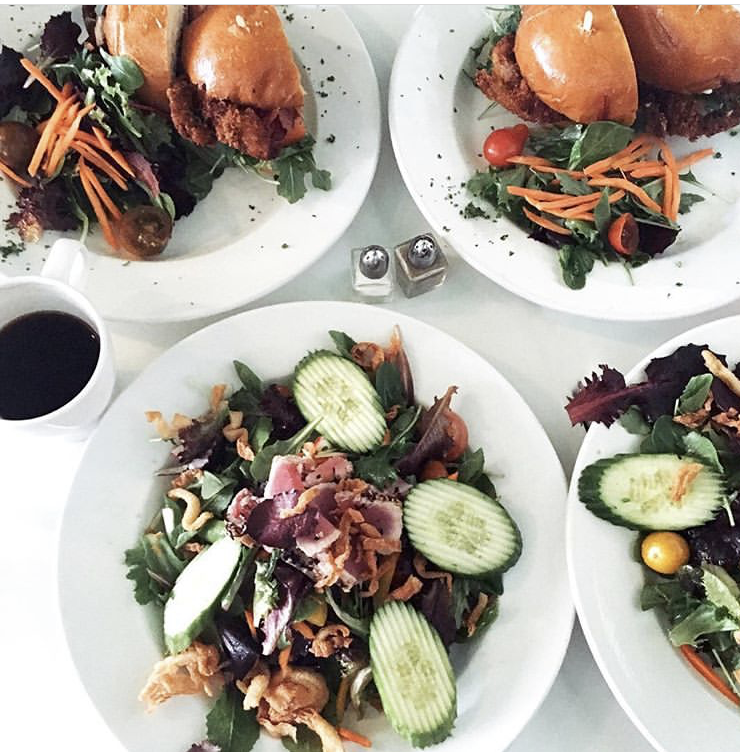 Jake's // 664 N Palm Canyon Drive
One of the few restaurants aside from ones in hotels that offer alfresco dining. Comfort food. Also beware, the dessert portions are out of control!
Other delicious spots:
Nature's: vegetarian and vegan
Chef Tanya's Kitchen : vegan comfort food
Aspen Mills: Nice family owned lunch spot that serves yummy sandwiches and fresh salads. They also make their own bread and desserts.
Peninsula Bakery : SO good! Pastries, croissants and all the things expected at a bakery. Flour + butter come straight from France.
Wilma & Freida : A smorgasbord of comfort food with a twist
Ice Cream & Shoppe (at Arrive Hotel): You can shop AND get ice cream flavors like lavender and birthday cake
Restaurant + Bar Combos
Shanghai Reds : Anthony Bourdain called their fish tacos the best. They have great live music on the weekends, always have sports on the TV's. Also recommend the lamb chops and wings (get the buffalo sauce on the side to keep the crunch)
Paul Bar Food : An unexpected swanky bar in a mini mall! Great atmosphere, cocktails, music and banter from Paul!
Counter Reformation: This is the wine bar at The Parker. A moody setting in one of the best hotels in Palm Springs. FYI, the dessert is off-the-menu.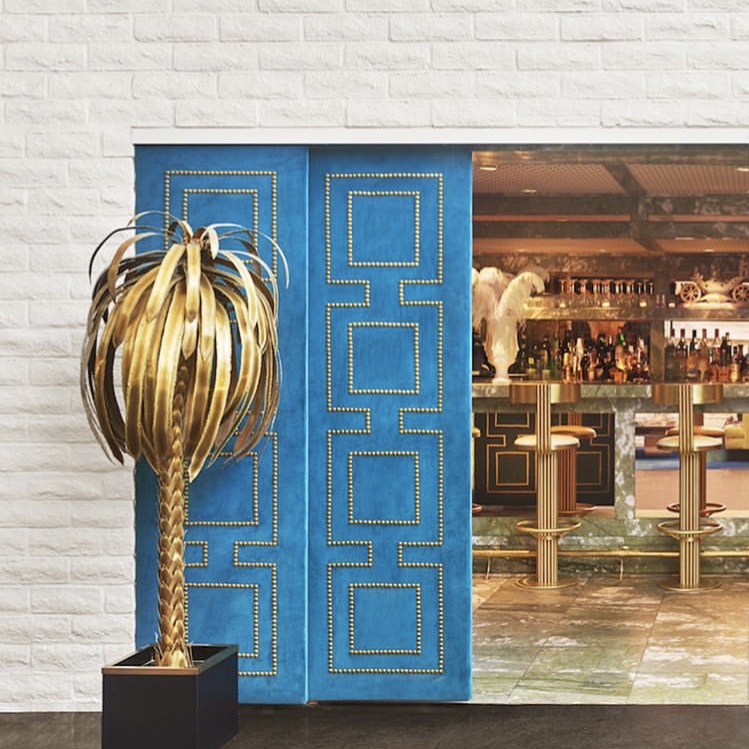 Considered The Parker's lobby bar, but it's not a typical one. Sit at the bar and feel transported to an intimate yet grandiose setting or sit in one of the many nooks in the lobby for more private convos. Fantastic happy hour menu starting at 4pm with delicious small plates (usually enough for dinner)
20 seat craft cocktail lounge inside of Mr.Lyon's. Ask for The Little Owl drink!
Great for dancing and the famous drag show on Sunday nights.
Located on the rooftop of Azucar, the restaurant in La Serenas Villas. It's a perfect place to bask in the sun with gorgeous views and delicious cocktails.
So there you have it! We're sorry in advance for the weight you're going to gain on this vacation, but hey, yolo. Palm Springs Guide: Part II is all about what to do besides eating and drinking. Think vintage shopping and getting outside. Part II will be up soon!